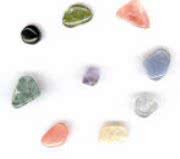 The mineral kingdom and in concrete crystals, is the base of all the physical reality and of course of the own life. The crystals are the more stable and elementary material forms of all the Universe, which allows them to work like natural energy resonators.
The quartz crystals radiate a comparable energy, with the magnetic field that produces a magnet.
At the moment one comes using the quartz like a generator from electricity, since when becoming pressure on him, generates a small electrical charge. This called capacity piezoelectric was discovered by the French spouses Curie. Such that discovered the radius and x-rayses are used like amplifiers of waves.
They are used like wave amplifiers. Thus little by little continuous science ratifying the criteria of the stone properties.
In order to make an idea about how they are affecting the new technologies, we must think that all the computers are based on silicium technology, given its great capacity to store data. Also we have the LCD screens (Liquid Crystal), the clocks precision machinery, the medicine with the use of medical lasers, solar energy panels…
The crystal use dealt with QSS, will contribute a clear sensation of well-being in your home, business or body, creating clean and relaxed atmospheres so that the blocked energy, flows again and recovers the Peace and the Harmony in its influence perimeter.